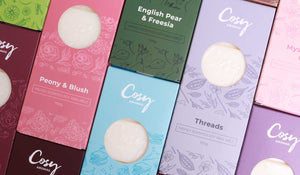 Become a VIP Member and enjoy a
Wax Melt Subscription Box
Delivered to your door each month.
VIP Exclusive Products
As a VIP Member you get access to exclusive products. Simply add your VIP code (message us if you don't have one) on the product page to be able to purchase.
Find a Golden Pod and WIN Big!
Each month, 5 lucky VIP Members will find a Golden Pod in their box. If this is you, contact us with the code on your Pod to win a big prize!
★★★★★

I'm a VIP member and the scents never disappoint, they're lovely and strong and last ages, I wouldn't go anywhere else now !! I am loving July's VIP Box which I received only this morning, well done Cosy .....

Paula Graham

Facebook Review
★★★★★

Looks like this months VIP is a real favourite!With that in mind what has everyone's favourite VIP box been?Mine was my 1st ever VIP (Feb I think) which included; Bamboo & White Lotus , Sweet Melody , Love Hearts and Cocoa Kisses Bamboo & White Lotus is a top 5 Cosy scent for me!

Marc David MacInnes

Facebook Review
★★★★★

June orange vip Another fab scent, another future purchase. Cosy Aromas wow, just wow, this vip box is truly epic. I want more of all 4

Poorvi Patel

Facebook Review
★★★★★

My first VIP box has arrived they all smell beautiful i dont know which ones to start melting first i dont know what time it arrived this morning post man didnt knock on my door ive just opened my front door to leave and it was laying outside my door in the communal hallway of my flat

Kirsty Ward

Facebook Review
★★★★★

My VIP October box came today. Smells amazing and has a great selection cant wait to try them all. Also the pods seem alot bigger in person than on screen they are massive.

Ben Penny

Facebook Review
Frequently Asked Questions
You are free to cancel at any point after your first renewal date.
Once renewal has been processed we're unable to cancel this and refund it before the boxes are dispatched due to how the subscription system works. You are able to return your VIP box for a refund.
The cut-off date for this months box is the 20th. If you subscribe before the 20th you'll receive this months box, if you subscribe afterwards then you'll receive the next months box.
Our subscription boxes are all sent out around the middle of each month, so you'll receive it shortly after then
Our VIP bonus points are added towards the end of each month. You will receive an email when they've been added to your account.