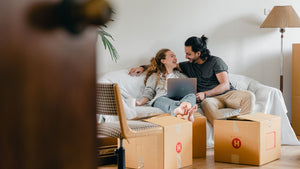 ⭐⭐⭐⭐⭐ 8,000+ Trustpilot Reviews
★★★★★

I'm a VIP member and the scents never disappoint, they're lovely and strong and last ages, I wouldn't go anywhere else now !! I am loving July's VIP Box which I received only this morning, well done Cosy .....

Paula Graham

Facebook Review
★★★★★

Marvellous wax melts,strong smells and last so long,lit the lemon and lavender half an hour ago and the bungalow smells lovely,partner came in from the garden and he could smell it out there!! Many thanks Cosy.xx

Joan Smart

Facebook Review
★★★★★

Thanks as always for a super service. Love the aroma's you create. My jubilee celebration wax melt pot smells soooo good. The little bracelet is amazing. My granddaughter will love it

Tracy Jane

Facebook Review
★★★★★

They smell so strong, lovingly packed, very large pods and so many different scents, and fast shipping

Chell Glasson Freeth

Facebook Review
★★★★★

I ordered a mystery box and amongst other things I got a coconut and lime room spray. I sprayed it on Sunday afternoon, In my living room I've just got home from work Tuesday evening and it's still the first thing I can smell when I walk through the door. Amazing! I will 100% be re ordering this product

Ottilie Berzins

Facebook Review
Wax melts are our passion
Cosy Aromas was founded by husband and wife, Paul and Tamar, in 2018. Our passion is developing beautiful home fragrance products for our customers to enjoy.
Frequently Asked Questions
Wax melts are essentially candles with no flame. They are a blend of fragrance oils, wax and coloured dye and are sold in a solid, cold form with the intention of melting in a home wax warmer.
Once the wax begins to melt, the fragrance oil heats up and slowly vaporises into the air, filling the room with a beautiful aroma.
Wax melts come in many shapes but are generally small enough to fit in or on top of the palm of your hand. With some companies, you'll even find glitter or botanicals embedded in the surface of them.
Well crafted wax melts have a strong and beautiful aroma even on cold smell (when the wax is still solid). 
A handy tip when purchasing wax melts or candles is to check that they are made from soy wax, coconut wax or beeswax. 
Why do we recommend these waxes? Well for starters, they are perfect in supporting the fragrance oil to effectively release it's aroma into the surrounding air. Secondly, they are far better for the environment than their paraffin wax counterparts.
Traditionally paraffin wax was used by many companies, however this inhibits the fragrance release and paraffin is known for releasing harmful toxins into the air.
If your wax melt is small and approximately the size of an Oreo biscuit, then it's already of a suitable size to pop straight into the dish at the top of your warmer.
If it is a larger block, then it will need to be cut or broken into smaller segments. Once you have suitable sized segments you're ready to melt. 
Pop one of these in the dish at the top of your warmer. Turn the electric warmer on or light a tea-light underneath. Sit back, relax and enjoy the beautiful aroma filling your room. 
Each wax melt will emit fragrance for many hours. 
As a general rule, 50g wax melts will last 30-40 hours and our 90g wax melts 70-80 hours.
Now of course we don't recommend warming any wax melt constantly for these lengths of time. They are best enjoyed in 4 hour intervals, allowing each one multiple uses and a chance for your warmer to rest and cool between each usage.
Remember that all warmers should never be left unsupervised and always kept out of reach of children and pets alike.
Our dedication to brining the best wax melts to you as we possibly can. We have a long and very thorough testing process for all of our wax melts. So you can be sure that any scent you try is of the best quality it can possibly be and has been fully tested in various warmers, various rooms and by various noses!
At Cosy Aromas, we put every single one of our fragrances through rigorous testing, and pride ourselves in ensuring that they are up to our high standards of being not only beautiful fragrances, but also highly scented.
The temperature the wax is being warmed at whilst in use is also important. If it's a somewhat cooler temperature then the scent throw will be quite subtle.
If the temperature is higher during warming, then the fragrance will be stronger.
The size of the space in which the wax melt is being warmed is also a contributing factor. For example:
The smaller the room, naturally the fragrance will vaporise and fill the space quicker
The larger the room, the more time it will take to fill the space. 
We bring our Border Collie, Willow, to the factory with us every day, so it's absolutely vital that our wax melts and candles are pet friendly so they are not only safe for her to be around all day, but also for our customers to enjoy in their homes knowing they will not affect their pets health.
When working with our scent manufacturers we make sure that every fragrance oil made for us doesn't include any chemicals which could have an adverse effect on animals.
Our customers love the fact that our wax melts are pet friendly, this gives them peace of mind knowing that we will absolutely not want any harm to come to their pets, just as we wouldn't for Willow.